"The world is full of magic things, patiently waiting for our senses to grow sharper." — W.B. Yeats
There have been unexpected benefits of this collective pause in quarantine. Without question, living in rural New Hampshire makes it much easier to stay physically and emotionally healthy with regular access to nature and the outdoors. Investing in our mental, emotional and physical health was a decision my husband, Bruce and I made early in quarantine. With ample external circumstances beyond anyone's ability to change or control, Bruce and I tried to create as much calmness as possible with the help of meditation, more sleep and daily exercise. Despite looming financial and health concerns while we sheltered in place, embracing the down time and living as much in the moment as possible set a tone for the whole family. Instead of dwelling on all that we have missed, will miss and the potentially horrible outcomes that could lie ahead, we tried to stay in the moment, expressing gratitude for the blessings we have every day.
We limit consumption of news but tune in enough to know what is going on without obsessing about the doom. We reach out to support a few friends and neighbors when they have needs, but we spent the past few months close to home as much as possible and embraced time with our kids while they finished online school and contributed to flattening the curve.
Returning early from college was certainly disappointing for our two older kids. For our oldest son, missing senior spring leading up to an in-person graduation felt sad, however it was easier to accept sharing the experience with young people all over the world. Online school and missed sports seasons were hard for all three of them, but they grasped the bigger picture relatively early. As it became clear that millions of people in metropolitan areas don't have the advantage of relative physical isolation, our kids recognized how safe they felt where we live. Hearing about the loss of lives and jobs helped them get on board with being thankful for the small things, which turned out to feel like the most important things. Being able to be physical active outdoors not only helped us all find more ease, but it contributed to family harmony by giving us a break from one another.
Personally, I have not felt this level of mental clarity since I was a 5th grader, living right here at Pierce's Inn where we live now. I explored the same fields and woods our kids enjoyed while growing up. Even as an overly active kid who found school a bit confining, I had plenty of time to play in the stream or climb up a tree and just look out at the world. Without much to do after school and practice, I stumbled into places and moments with stretches of time to ruminate. The uptick of homework in middle school put a damper on letting an afternoon unfold. Little did I realize as a kid, having nothing I had to do was actually much needed down time. Now I can appreciate why my parents told me I was lucky to feel bored. I now recognize that I have spent decades trying to attain that state of childhood boredom, yet subconsciously avoiding it by busying myself with non-essential tasks.
By the time I was in college, I was still in constant motion and seeking entertainment. It worked in my favor as an athlete but made it challenging to stay focused on schoolwork, or to just be present. One of my roommates observed my hyperactivity and suggested that meditation might help me improve my ability to focus as a student and as an athlete. Another friend pointed out that I sought ease and calm but sabotaged it by creating more activity. In an effort to reconcile these mixed messages, I invested in building a meditation practice over the years. These days, I am grateful to soak up any open time that arises. I guess I needed a few decades to be ready to embrace time in quarantine.
With Pierce's Inn closed, Bruce dug deeper into overdue projects around the place. I spend part of each day working on speaking, writing and storytelling projects I could never find time to get done as well as working on house projects. Productivity is occurring at a slower pace yet with more focus and attention.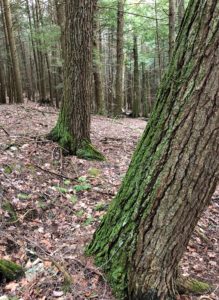 Living in rural New Hampshire makes it significantly easier to feel at ease. With access to acres of forest in our neighborhood and some open space around our house, we frequently get outside and roam around the woods. Before the leaves came out, each of us would return to the house and remark about the amazing beauty in the woods; the mosses seem more vibrant, the individual traits of trees are more noticeable and a wide variety of animal traces seem to be everywhere. A friend wondered if we notice the beautiful details because we are in the woods more or if we have more time to notice.
While our three kids did online school, I set up camp in the entry room of Pierce's Inn where I have beautiful views of the field across the road that extends to the woods with the hills of Vermont in the distance. Every morning, I stoked the wood stove, sipped my tea and stared out the window. Now that it is warm, I am still sitting by the cool wood stove watching spring unfurl. Sometimes I listen to podcasts and play solitaire, but I also enjoy long stretches of just being and staring out the window.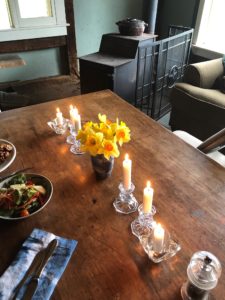 Bruce and I do our daily meditations in this space. The family gathers here for candlelight dinner every night, followed by conversation, games of Boggle, exchanges of shoulder massages or snarky arguments over meaningless stuff. Generally, anyone who enters this room spends a good amount of time just staring out the window at the sunsets, neighbors passing by, the rain, the woodchucks, the arrival of spring, the bluebirds and even the pesky snow that lingered for a day in May. The time and space to stare is a  luxury we are grateful for every day.
A teenage friend of ours found himself staring out the window for a long stretch of time, fully engaged in the activity of squirrels and commentating on their movements for anyone within earshot. After his burst of excitement over a squirrel that had barely held onto a branch after a big leap, his family had a good laugh about how low the bar for entertainment had become. The squirrels skittered and scampered in obscurity until March of 2020, and now the humans stopped to stare with fascination from sidewalks, pathways, windows and cars.
During this period of being home together, I am more aware that I can choose what holds my attention and whether or not to distract myself. I have actually felt moments of boredom, which I now cherish and try to prolong. As the pace picks up again, I hope to weave awareness, ease and the joy of empty stretches into every day from here on out.