A Wyoming Adventure in a Rental Car
The most nerve-wracking, adventurous and beautiful drive of my life occurred in the middle of what was supposed to be a relaxing afternoon. I had hours to get from Billings, MT to Powell, WY for a speaking gig at Northwest College. I decided to take a leisurely detour up to Red Lodge to get a whiff of that cool town before heading over to Powell.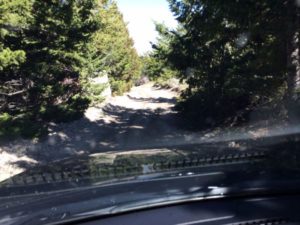 I enjoyed lunch in the sunshine watching a wide variety of cars, tractors and off-road vehicles drive down the main street of Red Lodge. Since I had plenty of time, I drove twelve miles up to the gate of Bear Tooth Pass, voted the most beautiful drive in the US. The pass was still closed in April, but the views were stunning all along the road leading up to the gate.
I began my trip to Powell with time to spare before I needed to meet up with Northwest students and staff for an early dinner before my talk. VZ Navigator sent me down a side street that turned into a dirt road, which suddenly turned into a very narrow dirt road. A road referred to as a "trail" should have given me pause, but VZ had steered me right for years, so I kept going.
The rented Dodge Durango handled the rough terrain pretty well. I drove for a while assuming the road would widen and smooth out. When the road narrowed to one lane, I grew a bit anxious. I stretched my optimism for another mile, but the trail became even rougher, requiring me to make some drastic moves to dodge sharp rocks and major bumps. I was far enough along that turning back to go another way would have made me late, so I forged on with my full-steam optimism. Normally, I would have looked at a map to get a sense of a new place and then rely on VZ for reinforcement, but this time I was fully navigator-dependent. Just when I really needed it, VZ Navigator went silent.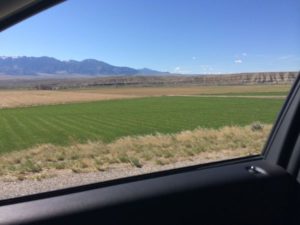 I dug deep to embrace the adventure. Between bouts of crazed laughter about my situation, I would panic about being late and start swearing loudly. It seemed that the road/trail was intended for late spring and summer passage only for off-road vehicles, jeeps and farm trucks. Winter had just ended in Wyoming. Despite my fast-developing back-road rally car skills, I bottomed out more than a few times.
The potential for a flat tire, broken axle or getting lost was mighty clear by this time, but I didn't see any option but to keep moving forward. There wasn't even a way to turn the car around. The trail was lined with sage and/or trees and a sharp edge. Deep into the drive, I saw a few rougher and sketchier side trails where I could have turned around, but it was too late.
I would have never made it through the really deep mud puddles and jarring tire ruts without the Durango. Luckily the rental company ran out of Chevy Sparks and Nissan Versa. At times I was unsure if I could drive through the deep puddles, but I gunned it like a maniac with the Durango swiveling and fishtailing to the other side, scraping the underside of the car as I accelerated. There were so many beautiful sights all along the way, but I could only take a few photos on the smoother sections because I needed both hands on the wheel to keep the car on the trail. Hyper-focus was also required to avoid sharp rocks and turns. Mud was thickly spattered up both sides of car to the top of the windows. I was too gripped to change the station, but the jazz on the radio was calming.
When I started to descend the backside of the mountain, I spotted a ranch in the far distance. VZ Navigator was still silent, but I was elated. When I stopped at a split in the road, each road looking like the correct way to go, a rancher suddenly appeared in a mud-covered jacked-up Bronco with her daughter in the passenger seat. They seemed shocked that I had just driven over the mountain behind me. They arrived at just the right time and in the only place where two cars could both pass. That lady in the Red Lodge baseball cap felt like an angel to me. She gave me directions on how to get back to a regular road where VZ would kick in get me to Powell. I arrived with just enough time to climb in the back seat to put on my lady clothes and slather on some deodorant to conceal my fear sweat.
Here is what I learned about the road/trail: "Retrace the Past on Meeteetse Trail. This scenic 4WD road began as an Army supply trail in 1881 that started at Meeteetse, Wyoming came through Red Lodge and continued on to Coulson (now Billings). The road brought the first mail, supplies and settlers the 100-mile distance from Meeteetse to Red Lodge and was originally called the '100 Mile Route.'"
It was a great adventure for this uptight, punctual gal!