Michael Franti and Spearhead at LOH
Michael Franti and Spearhead set a lot of souls alight in the Lebanon Opera House in June. "SOULROCKER" is the perfect title for their new album. Music promoter Buddy Kirschner brought Michael Franti and Spearhead to LOH as a fundraiser for the Rusty Berrings Skatepark in Lebanon, NH.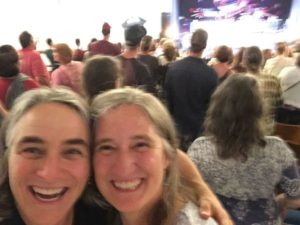 Before the band came out, Buddy gave a short presentation and showed a video about his and Ginny Kirshner's son Tyler (aka Rusty Berrings) and the project to expand Rusty Berrings Skatepark. Ty was an avid skateboarder and creative artist who passed away in 2015. Having taught Tyler as a first-grader at the Marion Cross School in 1993-94, the cause has extra meaning. It was a magical evening thanks to all of the people involved in making it happen.
Our seats were in the last row of the balcony – as far away from the stage as we could be – yet we felt like Franti was singing his positive vibe right into our hearts. Michael Franti clearly walks the talk behind his message. Love, peace, kindness and hope are woven through the songs and what he talks about between songs.
My friend Gail offered me the extra ticket she miraculously found on a listserve. We decided that if we moved behind our back row seats in front of the booth, we could dance up a storm without bugging anyone else. We happened to be right next to my friends Pam and Bill. LOH was buzzing with friendly, fun people.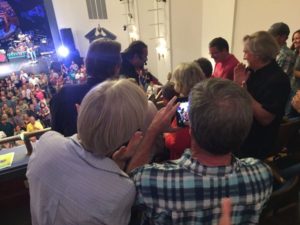 Michael Franti immediately infected us with his energy as he stepped onto the stage. There was a surge of joy as all eight hundred people rose up clapping and hooting. Michael Franti graciously distributed the love we poured his way to his amazing band. After sharing some uplifting and inspiring words, the band began to play. Most people danced throughout the entire show.
On a number of occasions, Franti sang and played his way off the stage to connect with the audience. A couple of times when we lost sight of him below us, and he suddenly appeared to dance and sing his way through the balcony igniting extra-level Frantimania. I had some tears of joy.
At the end of the show, Franti announced that he would be out in the lobby to say hello in person. As we descended the stairs, I was struck by how he openly walked through the people to get to the lobby, fully engaging in conversation and hugs along the way. Before Bill even finished offering to take a picture of Pam and me with Franti, we had scrambled to get right next to him. He looked us each right in the eye, humbly accepted our gratitude and gladly offered to be in our photo. My hand instinctively went right to his heart as if I could soak up a bit of the goodness he puts out to the world.
The departing crowd seemed to be overflowing with hope and inspiration. The universal appreciation gave one guy the impulse to counter it all by proclaiming in jest, "I guess that was ok." Everyone within earshot busted into laughter. It was crystal clear how moving the experience was for everyone.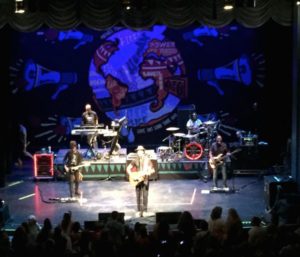 I landed at the bottom of the stairs in the lobby just as the line of grateful, patient people connecting with Franti was nearing its end. After I bought the CD, a cap with a peace sign and a couple of tee-shirts, I had the chance to saddle up for yet another hug and photo with the amazing Michael Franti. Friends who saw photos on social media didn't realize that Michael Franti made a personal connection with each and every one of us who stayed after. I have never met such an ego-free superstar.
I listen to SOULROCKER over and over when I drive. Road rage doesn't stand a chance with Michael Franti and Spearhead blasting in my car; In fact, the music compels me to wave and smile at people in other cars even when they cut me off. Love will find a way!! Light up your day with a viewing of Love Will Find A Way: https://www.youtube.com/watch?v=P5PPBT4oues
In addition to being a musician and a humanitarian, Michael Franti is also a filmmaker. His music videos include a wide variety of people from all walks of life dancing and singing with him. The lyrics and the video for Once A Day will make you smile, too:
If you would like to donate to the Rusty Berrings Skatepark, please send donations made to the Friends of Lebanon Recreation; POB 369; Lebanon, NH 03766 or online
here
.