Capable Women on bikes, on the mat, shooting a bow or slinging chow
After reading Endurance and The Long Walk, I keep a running list of the people I would choose if I had to assemble a capable group with skills and character traits that could help us survive challenging circumstances. What combination of people would align to help us survive being locked on an island of ice in Antarctica on a ship? What group could endure an escape from a brutal Soviet labor camp followed by a trek for thousands of miles to find freedom? My new question is inspired by the documentary film, Maiden, the story of the all-women sailing crew who competed in the Whitbread Round the World Race (now called The Ocean Race). What group of women would I choose for a Maiden voyage around the world on a boat?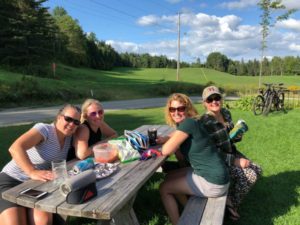 Tracy Edwards and her crew defied gravity in the 1980s by stepping into a male-dominated sailing race. The media, as well as the general public, relentlessly mocked them in the most condescending way before they had even purchased their sailboat. The sexism they endured reminded me that we have moved the needle since the 1980s and that we need to keep it moving. It took Edwards a couple of years to scrap together a sponsor and a second-hand boat that was heavy and unfit to sail. The women rallied to repair and prepare. And then this crew of women managed to win two of the four legs, despite the doubters. Had they not had to repair the mast in the middle of the race out at sea, they may have won the whole darn thing.
Edward's crew collaborated through setbacks, including wretchedly cold weather, a cracked mast and sleep deprivation. No one expected them to finish the first leg much less win two legs. As they sailed into the finish in Southampton, England feeling defeated, they were overwhelmed and uplifted by thousands of fans in boats and crowded along the shore cheering for them. They had made history and inspired many.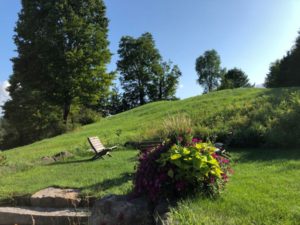 So I ask myself this question now: Who are the badass women I would be grateful to have on my team ready to face an epic challenge? I am blessed with dozens of women friends who are intelligent, canny, capable, physically strong and game. I know I could survive all kinds of challenges with any of my brave friends to pull me along.
This past weekend, I found a whole team of women already assembled. These lassies are ready to bike, hike, run, fend, heal, hunt, cook, build, knit, think, downward dog and laugh their way through just about anything. I think they could sail a boat around the world. My niece, Rachel invited me to join her crew of eight pals for a bike weekend up at Kingdom Trails. The moment I was saddled up in the living room circle at the Burke Bike Barn with this amazing group of women, I knew they were special.
The most striking feature of the group is that as individuals they are whole women. They are successful in their work and personal lives, and they are not in need of strokes and praise. Each of them could be described as a well-rounded athlete, but they are all cyclists. They bike together on occasion around Saratoga Springs, NY. Some are road bikers and some are mountain bikers, but they commit to biking together when they gather for a weekend. The exceptional road bikers and climbers are game to branch out to the trails, glad to follow the lead of their mountain bike pals. The experienced mountain bikers are totally game to take it slower than usual. They even welcomed this old rookie mountain biker to pull up the rear for their Saturday ride.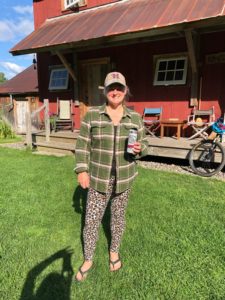 The connection between these women was immediately evident in the way they braided respect, humor and connection into their stories and conversations late into Friday night. Burke Bike Barn is the perfect venue for this kind of gathering in East Burke, VT. All four units have magical spaces to hang out around the living room, kitchen, bedrooms, porch and fire pit. Both the barn and farmhouse have a comfortable, funky vibe with an artistic cha-cha that is magazine worthy. Doug and Disa Clarner nailed it with a combination of elegant details and an artsy down-home feel.
The gals fetched up breakfast and coffee to start the day with a porch hang chat. Then we were off for a long ride right out the back door. The ride was good for all levels, and permission was granted to go our own speed and have joy. A few times, several of us chose easier routes while others grabbed a black diamond loop that led them back to meet us at an intersection. I am not sure why we rallied to follow the big dogs down Sidewinder, but I was fully prepared to bail or walk. My arms ached from keeping a death grip down the smaller loops and yanking my bike into the bushes to let people go by on the gnarly loops. Caroline and Julie hesitated for the first section then let loose, bikes almost vertical, calmly exclaiming their fear as they zinged away at full speed. Renée and I were fired up to discover the safe, easy path between the scary loops.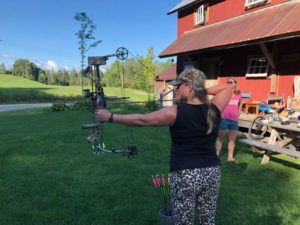 As I followed the group through one section, I overheard a teenage boy's snarky comment as we passed, "Ha, look. A whole group of chicks." All of us are old enough to have hatched that guy ourselves and a few could dust that dude on a climb – it is 2019, wake up lad!
At the end of the ride, a couple of us peeled off to enjoy a snack from the food truck at Mike's Tiki Bar then toodled back to the Bike Barn to meet the gang. We rotated through showers and stretching then gathered for drinks, snacks and more chat in the sun out on the porch. Sitting with Heather, Rachel and Kristin, I shared my vision of their group as an already assembled Maiden Crew who could do anything on a bike, in the deep woods, on an island, and even on a sailboat. They humbly laughed.
These Saratoga women cyclists would be a one-stop-shop for a Maiden Crew of any kind. Kristin would be the skipper, leading with humor and joy, nudging us all along to do more than we bargained for and convince us that we love every minute of it. Jen could be the navigator and kitchen manager, mapping the course and making sure the meals would be covered. All the women would contribute with their own set of skills and an endless supply of interesting conversation.
Susan, the Renaissance woman extraordinaire stands out as a key member. I learned from the crew that Susan could single-handedly keep us all alive because she has a very broad set of skills. She might be the first pick for anyone's Maiden Crew because she is a nurse who can build a cabin, she is also a skilled hunter and fisherwoman who can butcher what she slays on land or water, and she is capable of crocheting blankets that would keep us warm. Susan brought her bow to the bike weekend to keep up her training for a game-hunting trip in a few weeks. She nailed the bullseye repeatedly wearing leopard print leggings, a lumberjack shirt and a camouflage Harvard baseball cap from her niece who has put away her own bow to saddle up to an academic scene in Cambridge, MA. Badassery runs in that family.
I felt honored to hang with this amazing band of women who possess courage, wit, athletic skills and openness to dive into any adventure. If I ever find myself inspired to take an epic bike ride, camp on a remote island or sail around the world, I know I would survive with this Maiden Voyage Crew.